4 Port PoE Switch
4 Port PoE Switch
The right tool for your business.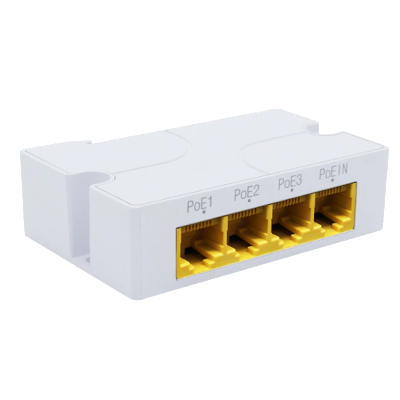 4 Port PoE Switch
Powered by Power over Ethernet (PoE) from your main network switch, this switch passes through the power it receives to 3 gigabit network ports.
$60
Features
🖧 1000Mbps/100Mbps/10Mbps speeds. Move data fast
🔌Powers 3 devices using PoE it receives with no power cord
⚡Draws up to 30 watts of power, powers up to 25 watts
💡PoE 802.3af and PoE+ 802.3at support
Compact 82mm by 52mm by 23mm footprint
🃏Similar in size to a pack of cards
🔨Din Rail compatible for tool free mounting
🪛Two mounting screw slots. Mount out of the way with ease!
🖥️No programming required - plug and play setup
Compatible with phones, WiFi and Security Cameras
Description
Running short on power outlets? Tired of cables tying up your desk? Need to turn 1 network cable into three? This switch solves the problem, powering up to 3 WiFi access points, security cameras, phones and other PoE devices from a single network cable, with no power adapters needed on PoE capable devices. Useful for areas where power outlets are limited, PoE is supplied from a central switch that has battery backup or where 2 or more devices need PoE and network connectivity from 1 cable.