DP752
DP752
The right tool for your business.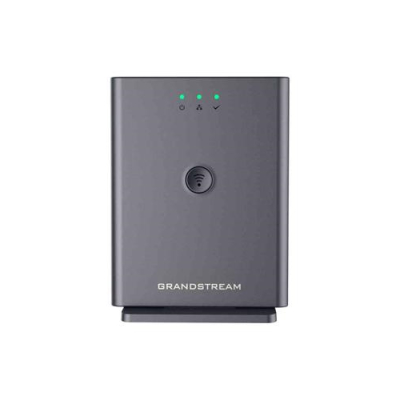 DP752
Communicate from wherever you roam in the office with Grandstream cordless handsets. The DP752 pairs with up to five DP720, DP722 or DP730 phones, creating a powerful reliable mobile network solution.
$80
Features
Up to 10 extensions supported
Supports up to 5 cordless handsets (DP720, DP722 or DP730)
Two 10/100Mbps Ethernet ports
Power over Ethernet (PoE) enables one cable to power your Base Station
Locate your lost cordless handsets by pressing the Page button on the rear of the Base Station
Encrypted connectivity ensures the privacy and security of your calls
Long range wireless DECT goes much further than WiFi, enabling you to go hundreds of feet with perfect call quality
The low power DECT protocol enables longer battery life on the cordless handsets with tens of hours of talk time and standby lasting weeks
Description
The DP752 is a powerful DECT base station that pairs with up to 5 of Grandstream's DP720, DP722 or DP730 DECT handsets to offer mobility to business and residential users. It supports a range of 300 meters outdoors and 50 meters indoors to give users the freedom to move around their work or home space, delivering efficient flexibility. This base station supports up to 10 SIP accounts and 5 concurrent calls while also offering 3-way voice conferencing, full HD audio and integrated PoE. A shared SIP account on all handsets will add seamless unified features that gives users the ability to answer all calls regardless of location in real-time. The DP752 supports a variety of auto-provisioning methods and TLS/SRTP/HTTPS encryption security. When paired with Grandstream's DP720, DP722 or DP730 handsets, the DP752 offers a powerful DECT base station that allows any business or residential user to create a cordless phone solution.