GRP2612 WiFi
GRP2612 WiFi
The right tool for your business.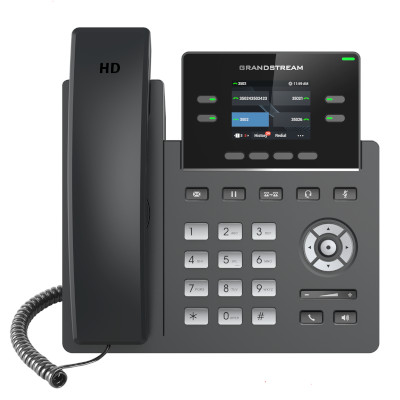 Need a phone where only WiFi exists? The GRP2612W has you covered with powerful WiFi 5 (aka 802.11AC) support built in. Plug into power and dial away!
$120
Features
The handset and 📢 speakerphone support wide-band & HD audio
Sort call history 📞 by Recent, All Calls, Missed, Inbound, Outbound, Internal or Transferred calls
4 line keys per 🗐 page
Up to 2 extensions supported (also known as SIP accounts)
24 multipurpose status keys (MPK/BLFs) across 4 🗐 pages enable you to see your teams 👥 status at a glance and talk with them easily!
🛡️ Enterprise-level protection including:
Secure boot 🔒to ensure your running verified firmware
Dual 💾 firmware images protect your phone during updates & enable easy rollback
🔑 Encrypted data storage to protect your
💻 Two 10/100Mbps Ethernet ports
Built in dual-band Wi-Fi 5 📶 (802.11 a/b/g/n/ac (2.4Ghz & 5Ghz))
Power over Ethernet 💡(PoE) enables one cable 🔌 to power your phone if GRP2612P is requested (GRP2612P does not include a power adapter)
New Voicemails 📬 will blink the voicemail indicator light 💡 in the upper right corner when a message ✉️ is unread
Wired Headset Supported 🎧
Upload your own custom 🖼️ background and screensaver
Description
The GRP2612W is a workhorse 4-line phone that features a sleek design and a suite of next-generation features including 16 virtual multi-purpose keys (VPKs), WiFi support, dual network ports, a color LCD screen and more. This phone delivers superior HD audio quality, rich and leading-edge telephony features, protection to ensure privacy & security, and broad interoperability. Designed with zero-touch provisioning for mass deployment and easy management, and hardware features like dual firmware images to protect your phone from unexpected disasters like power outages while upgrading.