GRP2613
GRP2613
The right tool for your business.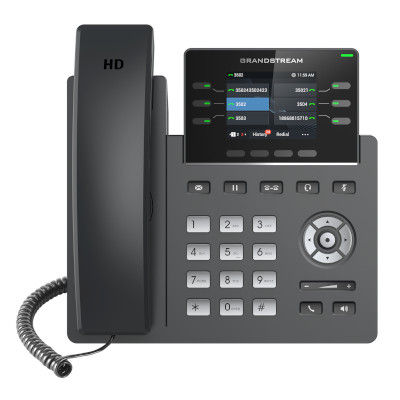 Six multipurpose keys presented on a color screen, Power over Ethernet & headset support enable this workhorse to serve diverse needs as business needs evolve.
$95
Features
The handset and speakerphone support HD audio (Supports Wired Headset)
Two 10/100/1000 Mbps Gigabit Ethernet ports
Power over Ethernet (PoE) enables one cable to both power and connect your phone
New Voicemails - indicator light on the upper right corner when a message is unread
Sort call history by Recent, All Calls, Missed, Inbound, Outbound, Internal or Transferred
Upload your own custom background and screensaver
24 multipurpose status keys (6 line keys across 4 pages) enable you to see your team's status at a glance and talk with them easily
Enterprise-level protection including:
Secure boot to ensure you are running verified firmware
Dual firmware images protect your phone during updates & enable easy rollback
Encrypted storage to protect your data
Description
The GRP2613 is a powerful 6-line carrier-grade phone that features a sleek design and a suite of next-generation features including 24 virtual multi-purpose keys (VPKs), dual Gigabit network ports, a color LCD screen and more. This phone delivers superior HD audio quality, rich and leading-edge telephony features, protection to ensure privacy & security, and broad interoperability. Designed with zero-touch provisioning for mass deployment and easy management, and hardware features like dual firmware images to protect your phone from unexpected disasters like power outages while upgrading.