GRP2615
GRP2615
The right tool for your business.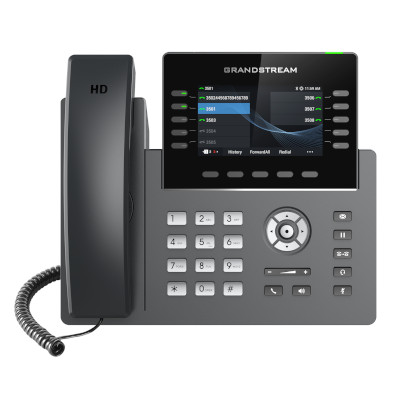 Bringing Bluetooth 5 & WiFi support to keep you connected, the GRP2615 is a high performing, versatile phone that is at home on any desk.
$200
Features
Integrated Bluetooth 5 with 30 feet of range lets you use your headset, earbuds or pair a smartphone (Wired headsets are also supported)
The handset and speakerphone support HD audio
Two 10/100/1000 Mbps Gigabit Ethernet ports
Power over Ethernet (PoE) enables one cable to both power and connect your phone
Built in dual-band Wi-Fi 5 (2.4Ghz & 5Ghz)
New Voicemails - indicator light on the upper right corner when a message is unread
Sort call history by Recent, All Calls, Missed, Inbound, Outbound, Internal or Transferred
Upload your own custom background and screensaver
Ability to record locally to a USB Flash Drive
40 multipurpose status keys (10 line keys across 4 pages) enable you to see your team's status at a glance and talk with them easily
Optional extension modules offer 40 multipurpose status keys per module (20 onscreen, 2 pages per module), for up to 160 extra keys total across four GBX20 modules
Enterprise-level protection including:
Secure boot to ensure you are running verified firmware
Dual firmware images protect your phone during updates & enable easy rollback
Encrypted storage to protect your data
Description
The GRP2615 is a high-end carrier-grade IP phone featuring a sleek design and a suite of next-generation features including integrated Wi-Fi, Bluetooth 5 support, 40 multipurpose keys (MPKs), an available extension module (model GBX20), dual Gigabit network ports and more. Featuring a large 4.3 inch color screen, you have plenty of onscreen real estate to manage a busy workday efficiently.