W53H Handset
W53H Handset
The right tool for your business.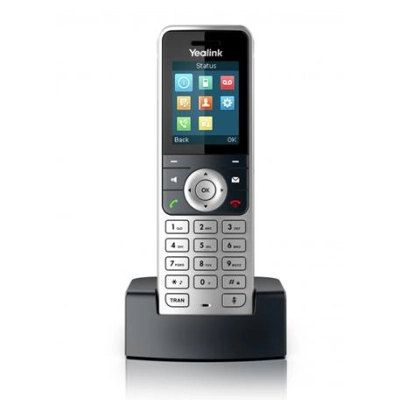 W53H Handset
An additional Yealink Cordless Handset to pair with an existing Yealink Basestation or Yealink DD10K Dongle.
$90
Features
This handset and its speakerphone support wide-band & HD audio
Includes a Belt Clip to free up your pocket space while keeping the phone close at hand
Sort call history by Recent, All Calls, Missed, Inbound, Outbound, Internal or Transferred calls
Encrypted connectivity ensures the privacy and security of your calls
New Voicemails - indicator light on the upper right corner when a message is unread
Supports wired earbuds and headsets
Long range wireless DECT goes much further than WiFi, enabling you to go hundreds of feet with perfect call quality
Battery life that can go the distance, with tens of hours of talk time and standby lasting weeks
Quick charging: 10-minute charge time for 2-hour talk time
Description
The Yealink W53P, being a high-performance SIP cordless phone system, is the ideal solution for small and medium-sized businesses. Paring with up to a total of 8 Yealink W53H DECT handsets, it allows you to enjoy superb mobility and efficient flexibility immediately as well as significantly eliminates additional wiring troubles and charges. This DECT IP phone not only supports up to 8 SIP accounts and 8 concurrent calls, but also speeds up its startup and signal connection compared to other phones. By supporting the Opus audio codec, our W53P handsets consistently deliver excellent and professional audio quality in both high-bandwidth and poor network conditions. Offering the convenience of a cordless handset with a simple USB add-on device plugged into a Yealink deskphone, it brings a seamless experience for our users while "on-the-go". Providing more functionality, lines and mobility, we empowers users with the convenience of wireless communication along with the widely accepted benefits and feature richness of modern telephony. The Yealink DECT IP phone W53P supports efficient provisioning and effortless mass deployment with Yealink's Redirection and Provisioning Service (RPS), enabling Zero Touch Provisioning and eliminating manual settings, making these phones simple to deploy, easy to maintain and upgrade, and saving even more time and IT deployment cost.