Yealink CP935W
Yealink CP935W
The right tool for your business.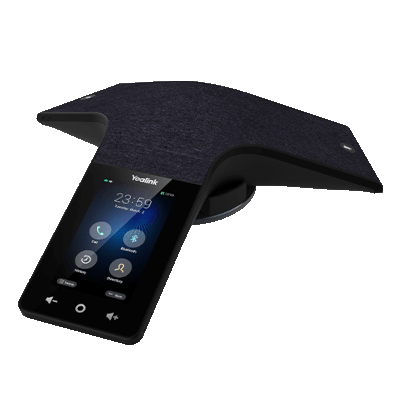 Yealink CP935W
This wireless conference phone is a breeze to use anywhere in the office thanks to a large touchscreen, 15 hours talk time & lack of wires to contend with!
$850
Features
This conference phone has a powerful speakerphone that supports wide-band & HD audio
Pairs with smartphones and computers to enable higher quality videoconferencing
Sort call history by Recent, All Calls, Missed, Inbound, Outbound, Internal or Transferred calls
Long range wireless DECT goes much further than WiFi, enabling you to go hundreds of feet with perfect call quality
Pairs to a Yealink DECT Base Station or DECT DD10K dongle attached to a Yealink phone if you are not connecting through WiFi or Bluetooth.
Description
Featuring a 6 microphone array, the Yealink CP935 Conference Phone is able to get crisp, clear audio from many nearby participants while providing superb audio with its powerful speakerphone. Given the built in battery, DECT Cordless support, WiFi and Bluetooth, you can take this nearly anywhere, drop it on a table or desk and start using it effectively immediately. This conference phone can pair with a computer or smartphone over bluetooth to deliver much cleaner and more vibrant audio on videocalls, or ensure everyone is heard on conference calls. The modern touchscreen interface makes this phone a breeze to use. When your done using this phone, place it atop the discreet charging cradle so it can be ready to use at a moments notice for any calling and conferencing needs that arise.