DP720
DP720
The right tool for your business.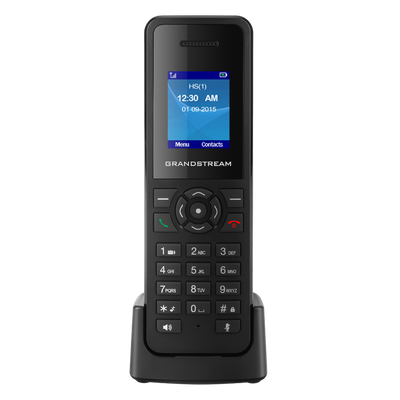 The DP720 Cordless handsets are easy to use, flexible and last much longer than a cellphone battery! Pairs with a DP750 or DP752.
$85
Features
This handset and its speakerphone support wide-band & HD audio
Includes a Belt Clip to free up your pocket space while keeping the phone close at hand
Sort call history by Recent, All Calls, Missed, Inbound, Outbound, Internal or Transferred calls
Up to 2 extensions supported (also known as SIP accounts)
Encrypted connectivity ensures the privacy and security of your calls
New Voicemails - indicator light on the upper right corner when a message is unread
Wired earbuds and headsets supported
Long range wireless DECT goes much further than WiFi, enabling you to go hundreds of feet with perfect call quality
Battery life that can go the distance, with tens of hours of talk time and standby lasting weeks
Supported by Grandstream's DP750 or DP752 DECT Base Station
Description
The DP720 allows the user to unbind themselves from their desk and move freely and efficiently throughout the work environment. Paired with Grandstream's DP750 or DP752 basestation, the DP720 offers a mobile calling solution for any business or residential user. The DP720 touts a suite of top-notch telephony features including support for 2 SIP accounts per handset, full HD audio, a 3.5mm headset jack, paging, a speakerphone and more. The Grandstream DP720 also has surprisingly good audio quality for being a cordless phone.