GXP2170
GXP2170
The right tool for your business.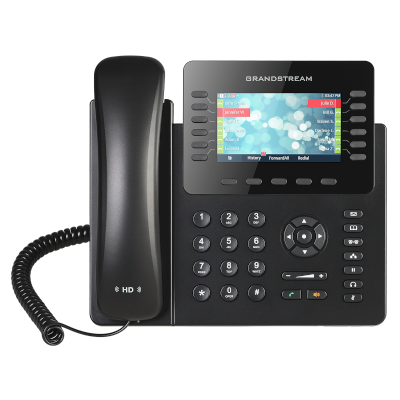 Offering a large color screen displaying the 12 programmable keys, plus Bluetooth, Gigabit networking & predictive dialing, the GXP2170 brings your business together.
$200
Features
The handset and speakerphone support HD audio
Integrated Bluetooth lets you use your headset, earbuds or even pair a smartphone (Also supports Wired Headset)
Two 10/100/1000 Mbps Gigabit Ethernet ports
Power over Ethernet (PoE) enables one cable to both power and connect your phone
New Voicemails - indicator light on the upper right corner when a message is unread
Sort call history by Recent, All Calls, Missed, Inbound, Outbound, Internal or Transferred
Ability to record locally to a USB Flash Drive
Upload your own custom background and screensaver
48 multipurpose status keys (12 line keys across 4 pages) enable you to see your team's status at a glance and talk with them easily
Optional extension modules offer 40 multipurpose status keys per module (20 onscreen, 2 pages per module), for up to 160 extra keys total across four GXP2200EXT modules
Encrypted calling and provisioning to protect your data
Description
Presenting its 12 line keys using a large 4.3 inch color display LCD and also offering full HD audio, the GXP2170 is ideal for busy workers with many extensions and speed dials to manage. A GXP2170 supports up to 48 multipurpose on-screen speed dial/BLF keys, integrated Power over Ethernet for a single cable solution to provide power and data & built-in Bluetooth for syncing with mobile devices and Bluetooth headsets. This enterprise ready phone supports the technology you need and fast gigabit connection speeds with its dual gigabit network ports, enabling you to reuse existing network cabling while upgrading to this phone.